Use the SpectroCoin pre-paid bitcoin debit card to spend your bitcoins almost anywhere in South Africa! Use it exactly like a normal debit card that your bank will give you, the only difference is that this one you fund with bitcoin…no banks involved.

This is a dream come true for people who have bitcoins and would like to have the convenience of money on a debit card, but do not have a bank account.

Make use of the bitcoin debit card worldwide, anywhere you see the VISA logo, you can use the card. You can swipe the card in store, draw local currency at an ATM, or even use it to shop online.

BONUS! SpectroCoin customers get an affiliate link that you can use to recommend SpectroCoin to your friends and earn 10% from all fees paid by your referrals. The payout is made every day. The minimum payout is 1 EUR.
SpectroCoin is a London-based Bitcoin company offering digital currency solutions and services. Although based in London, South African users are able to make use of their services.

If you have bitcoins and would like to spend them at your local stores, now you can do that easily, the store does not need to accept bitcoins or even know what bitcoins are. You no longer need to sell your bitcoins on an exchange, and then withdraw the cash to your bank account, you can now just fund your SpectroCoin debit card directly.
We have successfully combined technological reliability, infrastructural comprehensiveness and relevant experience and academically based financial knowledge. By balancing these key strengths, SpectroCoin is able to be flexible and provide the highest-quality services for clients.

How much does it cost, and what are the charges?
The SpectroCoin physical bitcoin debit card is one of the very cheapest on the market at only $9 to order a physical debit card by regular mail, and can be a USD, EUR or GBP denominated card. If you need one fast, you can add 69 EUR to have the card delivered in 4-5 business days by courier. A virtual card is also available if you only need to use one for online services and not in the 'real world'.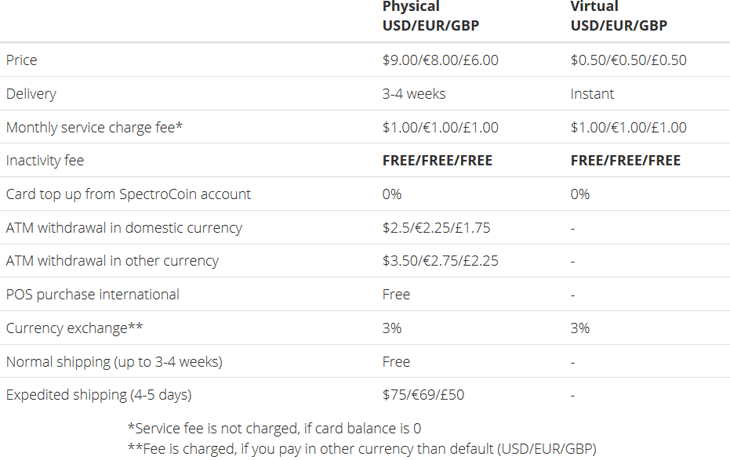 So if you dont mind waiting a few weeks for delivery, your cost to get a bitcoin debit card is only $9!

Deposit bitcoins into your wallet on the SpectroCoin website, and then use those funds to purchase a bitcoin debit card. Once you have your bitcoin debit card, you can fund the card with your bitcoins in your wallet, as well as purchase airtime to top up your cell phone with bitcoin! (8ta, CellC, Vodacom and MTN)

Get your bitcoin debit card today for only $9 in bitcoin….sign up for an account by clicking here

Step-by-Step Guide to Signing Up and Getting a Bitcoin Debit Card
Visit the SpectroCoin sign up page here http://spectrocoin.com input your email address, and click the 'sign up' button.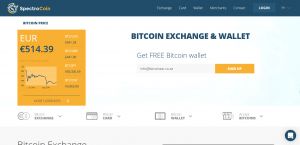 Complete the form by choosing a password, and checking the box to prove you are human.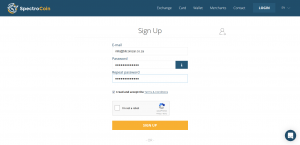 Once you complete the form and press the 'sign up' button, you will get a page showing the sign up is complete. The page will instruct you to check your mailbox for your confirmation letter.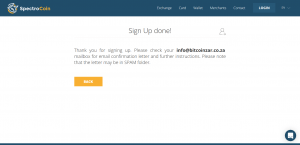 Your confirmation email will look something like the one below. Click the link inside the email to verify your email, and complete the sign up process.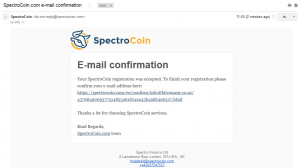 Once you have clicked the link in the email, you will be taken to the login screen, and you will see a message like the one below, showing you that your account has been confirmed, and you can login. Use your email and password to login to SpectroCoin!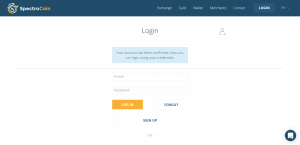 You are now logged into the SpectroCoin website.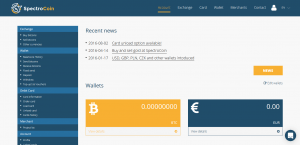 Now that you are logged into the SpectroCoin website, you can complete your profile. Click the 'Profile' link in the menu on the left hand side of the screen. You will see it near the bottom of the left menu bar, under the heading 'Account'. You will now be able to complete your profile.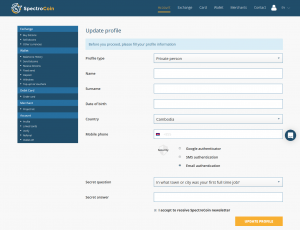 Once you have updated your profile, you are ready to deposit some bitcoin ($9 worth) and purchase your bitcoin debit card!

Click the 'Deposit' link in the left menu bar under the heading 'Wallet', and then click the icon to deposit bitcoins.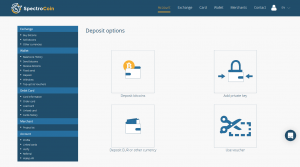 Send bitcoins to the wallet address they provide you. You will need $9 worth of bitcoin to buy the card, and then you of course need to load the card with bitcoin, so send as much bitcoin as you would like to load onto the card.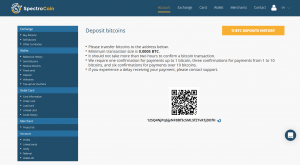 Once you have deposited bitcoin, and the bitcoin is showing in your wallet, you are able to order your bitcoin debit card!
Click the 'Order Card' link in the menu on the left under the 'Debit Card' menu heading. Complete the order form with your address details.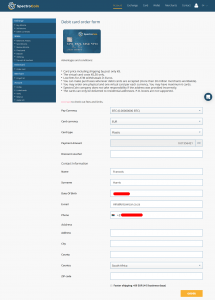 And you are done! Once you have placed your order, you will get a page showing your bitcoin debit card order. Press the 'Confirm' button to submit your order information.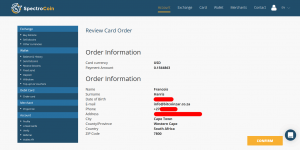 Now all you have to do is wait for your card in the mail. Once it arrives, you can activate it and begin spending bitcoins anywhere that VISA is accepted. Stores or vendors where you use the card do not need to have a bitcoin wallet, or even know what bitcoin is. As far as the vendor is concerned, it is just a regular VISA debit card.




Earn bitcoin with the SpectroCoin affiliate program
As a member of SpectroCoin, you get a referral link that you can share on twitter, facebook or your website that other users can use to sign up. You will get 10% of the fees from users that sign up using your link.
Recommend SpectroCoin to your friends and earn 10% from all fees paid by your referrals. The payout is made every day. The minimum payout is 1 EUR.
The affiliate page has your referral link that you can share, as well as a download file containing images for you to use on your website, or when sharing on social media.

This article originally appeared in Bitcoinzar.co.za
If you liked this article please share it with your friends below.
>>Best Revenue Share Sites: CLICK HERE<<<
>>Best Paying PTC Sites of All Time: CLICK HERE<<<
>>Best HYIP Sites: CLICK HERE<<<
>Social Media Platforms That Pay You: CLICK HERE<<<